Six of Crows #2 | 536 Pages | 2016
Crooked Kingdom at a Glance
Overall Rating: ★★★★★
Characters:

My babies!

Action:

High-wire throwing stars

Steaminess:

Behind closed doors

Brutality:

Ouch!
Pairs Well With
A bucket of sangria – first you drink and then you can use the bucket for your tears
---
Review
I don't even want to look at this book. I almost threw it in the freezer like Joey.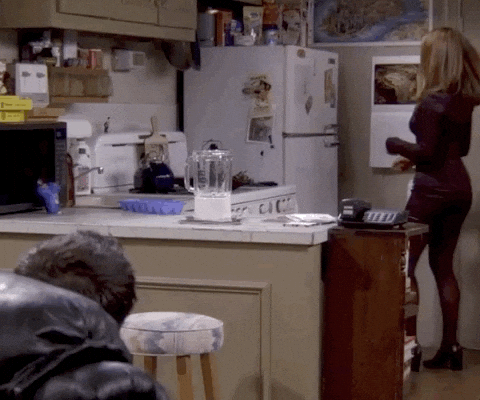 How DARE YOU.
I knew it was going to break my heart. But I had no idea. The entire book I was scoping things out, trying to figure out who was going to die. I had it WRONG.
Kaz is the scariest person when on the hunt for Inej. He runs around threatening every single person and making life general hell. He is a man on a mission and Inej will be free or the world will burn.
"I would come for you. And if I couldn't walk, I'd crawl to you, and no matter how broken we were, we'd fight out way out together⎯knives drawn, pistols blazing. Because that's what we do. We never stop fighting."
Be still my barely beating heart! Kaz Brekker you are a charmer and you don't even know it.
Honestly, he is the best evil/amazing character and I understand the hype. 
The thing is… I love books that  break my heart. I mean… people die in wars. Gang war or nations at war…people die. So I get really angry when no important characters die. (Wings and Ruin the shade is at you). 
But MY HEART. 
I was so worried that this duology would disappoint me because I wasn't a huge fan of the Grisha trilogy. (Alina sucks IMO). Bardugo truly surprised me and I fell in love with this little band of misfit criminals. 
Going back through my notes they say stuff like:
"This is the best scene and my heart can't deal." pg 325
"My sweet babe. I forgive you for being a racist asshole in SOC." pg 292
"If I lose Matthias I'm gonna lose my shit." pg 487
If those aren't solid notes for a book, then I don't know what are. I also have a ton of very angry notes that are spoilery so I will leave those out of this review. 
Kaz has an incredible evil genius power. A pseudo-hero with no real magic, set in a world where there is a bunch of magic made me happy. Getting to see the other side and more of the world than Ravka was really interesting. I love that Bardugo showed us how much more there was to this world than Alina and the Darkling.
In fact, everything else is better than Alina and the Darkling.
Plus, Bardugo truly improved on her character development. None of the characters fell flat and I was 100% invested in every single one. Plus, who can complain about those cameos?! All in all this was a spectacular read. I want to do a reread, but I think my heart needs to heal first.
Update: I read this over 2 months ago and I'm still upset…
---
Have you read Crooked Kingdom? Let me know what you thought in the comments! 
Follow me! 
Twitter || Goodreads || Instagram