By: Jay Kristoff
Nevernight Chronicle #2 | 419 Pages | Pub. 2017
Godsgrave at a Glance
Overall Rating: ★★★★★
Heroine:

Stabbiest bitch there is

Dude:

N/A

Steaminess:

Jay doesn't lie about smut

Brutality:

It's Nevernight…what do you think?
Pairs Well With
The Gladiator drop shot
2 parts Orange juice, 2 parts Sprite in a glass
1/2 Amaretto, 1/2 bourbon liquor in shot glass
Drop shot in and chug bitches
---
Review
"Never flinch. Never fear. And never, ever forget."
What sweet vengeance. 
Okay, so obviously I adored this book, but I may be the first to say that I liked Nevernight just a touch more… It has to be because I missed the Red Church and all of those characters. In Godsgrave, Mia ends up fighting her way through a gladiator-style Collegium to get a whack at her revenge. Honestly, it's brilliant, but what else did we expect from Jay?
He has given me my new favorite term "jiggery-fuckery." I plan to use it in all of my conversations moving forward.
Really this series should be canonized.
Mia is still Mia. Bloodthirsty with a heart, but her new friends are incredibly entertaining. Sid I will love forever. Plus, we get tons of Eclipse and Mr. Kindly banter that will not let you down. Fighting cats and dogs should not be this hilarious, but they are.
So, for the technical stuff. Jay crafts worlds that blow me away. Honestly, the maps are gorgeous and well thought out. The footnotes never bothered me, but for those of you who were annoyed, there seemed to be fewer of them. That, of course, could all be in my head. Who knows. But expect the same amount of awesome as you saw in Nevernight and you will not be disappointed. The ending is a serious mindfuck.
"Nothing brings the familia together like a nice afternoon of slaughter."
Okay, so from here on out, I am not responsible for any spoilers because I don't know how to review without them. I tried… But seriously… MAJOR SPOILERS BELOW.
Here are some of my thoughts.
OK well super creepy person in the cemetery has to mean something right?
Can we PLEASE talk about Ashlinn? She just casually pops back in with a magical tattoo and we find out she was right the whole time? But also, still mad about killing Tric and NO I can't forgive her. She killed the only assassin Hufflepuff. Who does that?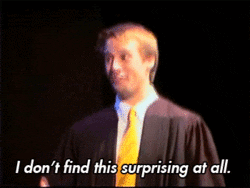 Somehow, by a stroke of even worse luck, Mia ends up at her old house, which had been commandeered by the last dude she killed? 
I wanted more from Furian. His entire character felt like it was leading to something. He was so deep and we didn't really get to see him. Maybe he can be another Mia passenger and we will get more Furian. Maybe it's just fix the bad boy syndrome. Aww "Leona's little fuckboy."
Ok, now we have six-armed soldiers and THAT'S normal? NO. Nope. Ew. Can we not have centipede people?
I LOVE Sid and his inappropriate banter. This book is a slew of amazing sidekicks. I'm here for it.
"Well, speaking as a former world traveler, you'd be surprised how far a quick wristjob will go toward mending strained foreign relations."
Eclipse missing Cassius is HEARTBREAKING.
THIS ENDING. 
Omg so Evil one is her DAD???
And Jonnen???
TRIC I KNEW YOU WOULD COME BACK FOR ME!
---
Have you read Godsgrave? Let us know what you thought in the comments!
Follow us!
Twitter || Goodreads || Instagram