Standalone | 320 Pages | Pub. 2018
How to Walk Away at a Glance
Overall Rating: ★★★★
Heroine:

Amazingly tough

Dude:

*swoons at the accent

Emotional:

Get your tissues ready

Brutality:

Again… get your tissues ready
Pairs Well With
---
Review
I have to be honest.  I was seething with anger when I finished this book. I enjoyed it… to a point. It's beautifully written with a heartbreaking plot and well-developed characters. Center does a tremendous job of reeling in the reader and making this book impossible to put down.
My issues with this book are my own. I gave it four stars because it deserves them. The quality of the writing, the characters and the plot deserve four stars. I liked it okay. It's not the right fit for me, but I can acknowledge the quality of the book and I don't want to discourage anyone to not read it just because I don't do well with emotional books.
Spoilers below…..
Margaret is getting engaged to the love of her life Chip. Margaret is also insanely terrified of planes. Chip is getting his pilot's license… i'm sure you can see where this is going.
"Chip pushed me into doing things I didn't want to do. That his lack of respect for my genuine discomfort in the face of his Top Gun fantasies did not bode well for our long-term prospects."
It turns out Chip is a giant douchebag and wants to propose to her IN THE AIR. In a tiny plane no less. I feel like we knew this would happen because… well, his name is CHIP.
Chip crashes the plane and Margaret ends up in the hospital, paralyzed, while he has not a scratch on him. And while she is recovering… he is drinking in a bar and cheating on her with his ex girlfriend. He SUCKS. But, we know this is going to happen because it all feels over-dramatized. I think that is why I didn't love this book.
He can't just feel guilty and emotionally move away. He has to have ZERO scratches and drink and cheat. 
I will say that I loved that Center didn't skip over the immediate aftermath of the accident. We got her disjointed and injured thoughts 100%. This really enhanced the story line and made me love Margaret. We see her confusion and anger and hope. I felt a real connection to her.
Margaret's family was amazing. Her mom obsessively decorating her room and then trying to comfort her through bossing her around was so real. Even though her mom  was horrible, a lot of the time, you could tell that it was coming from a place of love and fear. She was so scared that her daughter was injured and she wanted to do anything she could to force Margaret to heal. 
Kitty is awesome. What an amazing sister to show up and just tough things out with you. My sister is my best friend and I would need her there every second if something like this happened. I LOVE sister bonding and this really made the book for me.
"'I'm never going back to Facebook,' I said.

'Of course not,' Kit agreed. 'Facebook's for grandmas. Just follow me on Instagram.'"
The plate smashing scene has to be my favorite. Buying plates to just trash and then leaving them all over your driveway like a crazy mosaic is the best. Totally doing that next time I have some severe anger.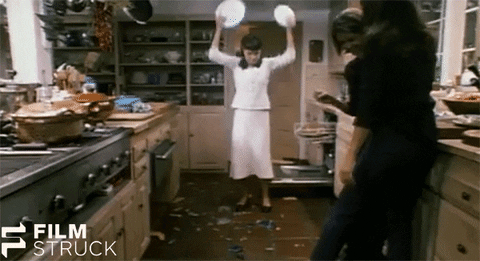 I did roll my eyes at the mom's secret. Does everything have to turn into a Who's your daddy moment? I think that heightened drama is what disconnects me from this type of book. If it's done in parody or on purpose then I can watch like it's Maury, but that is clearly not what was happening here. Being paralyzed isn't enough. It had to be on the night she got engaged and her fiance had to crash the plane. He couldn't just disassociate, he had to drink and cheat. Her mom's secret had to be a love child. Ian's fiance had to die as well. He had to be Scottish and under threat of deportation.
I feel like there was so much emotion and meat to this story that the extra drama pulled me out of it. 
I know this sounded negative and I really don't mean it to be. It's a gorgeous book with heart and soul. It made me tear up. I think that it's just not for me. But it 100% could be a book that you love and I definitely recommend it if you like more contemporary books.
---
Have you read How to Walk Away? Let us know what you thought in the comments! 
Follow us! 
Twitter || Goodreads || Instagram