By: Amie Kaufman and Jay Kristoff
The Illuminae Files #2 | 659 Pages | Pub. 2016
Gemina at a Glance
Overall Rating: ★★★★
Heroine:

#1 Girl Crush (LET ME BE YOU HANNA)

Dude:

Mobsters come in Hufflepuff

Steaminess:

All talk

Brutality:

Poor cows
Pairs Well With
DON'T DO DRUGS KIDS
---
Review
Slowly but surely I'm making my way through this series. I was pretty excited for Gemina because Nik Malikov is supposed to be the most wonderful book boyfriend ever. He is great! Maybe not my all time favorites, but I loved his snarky and fun sense of humor.
We pick up on the space station Heimdal, Kady, Ezra and crew are headed that direction on the Hypatia and of course Beitech needs to stop them. Fun thing is, the space station controls a giant wormhole and we all know that only good things happen in wormholes right???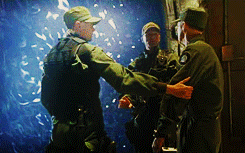 Meanwhile, our good friend Nik is inserting giant, nasty bugs into cows to create drugs?? Yeah. That's a thing apparently. I just feel bad for the cows.
Hanna, our leading badass, is a spoiled rich girl, but has been seriously trained by her dad in the ways of war. This girl GOES TO BATTLE when the space station is invaded.
"You might get only one shot. So shoot. You know who said that?"

The rifle clatters to the bloody floor.

"Hanna FUCKING Donnelly. That's who."
Princess no longer, Hanna doesn't stop at wanting to save her dad and boyfriend, Jackson, she wants to take down anything and everyone who might want to hurt them. I am a little fangirl obsessed with her. It's not even lowkey. I just want Hanna in my life.
Nik is adorable and flirty. I love him, but tbh Hanna overshadowed him to me and I don't think I saw all of the gloriousness that I was supposed to see.
But wait, good readers, Hanna is not the only kickass girl in this story. We have Nik's cousin Ella, who is a freaking Kady-level computer genius. Hacker extraordinaire Ella saves the day so many times I lost track and she is only like 13!
The reason I can't just binge read these books is that they are so incredibly action-packed that I need a chill book when I'm done. I have Obsidio and i'm ready to finish this up so that I can get to Aurora Rising!!!
---
Have you read Gemina? Let us know what you thought in the comments!
Follow us!