By: Taylor Jenkins Reid
Standalone | 368 Pages | Pub 2019
Daisy Jones & the Six at a Glance
Overall Rating:

★★★★★

Heroine:

Karen is the real MVP

Dude:

LAME

Steaminess:

In the background

Emotion:

ALL THE FEELS
Pairs Well With
Let's avoid drinking with this one…
---
Review
"We write songs about women. Women will crush you, you know. I suppose everybody hurts everybody, but women always seem to get back up. You ever notice that? Women are always still standing."
So, I listened to the audio for this because FULL CAST. I love full cast audio books and hello, Benjamin Bratt reads Graham.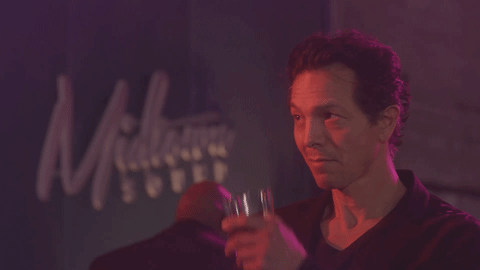 This book is the epitome of Sex, Drugs & Rock'n'roll. The interview format was spectacular as audio, though I have seen some reviews where people didn't love it written. I can see that, but for my experience, it was a perfect fit. The actors nailed this one.
We follow the band from their beginnings until the big breakup. Drugs, kids, relationships, and more drugs. Oh, did I say drugs? Rehab. And another drug problem.
Since I wasn't alive in the seventies, it's hard for me to know how accurate this would be for a band in that time period. I think we all assume that drugs and alcohol, rehab programs and infidelity are part of a the rockstar stereotype. Yes, there is a huge focus on the relationships and building the band, ups and downs, but they are all driven by and centered around drugs and alcohol.
The lead singer Billy is by no means perfect, he is headstrong and always has to be right. Honestly, he annoyed me. Billy is the exact guy I never want to have to deal with. Was he a talented musician? Absolutely. Do I like him as a person. Not one bit.
But that is kinda what I loved about it. All of the characters are flawed and real. They all have different goals and strategies to get where they want. Eddie just wants to be in a rock band. Billy wants to be the most famous musician and take care of his family. Graham wants love. Karen wants independence. Warren wants to get laid. Pete wants Jenny. And Daisy? She just wants to do drugs and write songs.
We get strong female presence in addition to Daisy. Karen and Camila are actually much stronger than Daisy from my opinion. Camila is going to have the family she wants, the way that she wants it and the girl NEVER backs down. Karen, the real hero of this story, wants to be independent and live her life on her own terms. She is fun and carefree and handles her shit the way that she wants. None of these women let a man push them around or back them into a corner. TJR did an excellent job of creating flawed, beautiful characters.
"Men often think they deserve a sticker for treating women like people."
The band drama was filler. Necessary, I mean, bands and people fight, but it was background to the excitement of becoming the most popular band.
The romance… oh man. One story I loved and another just felt unnecessary. The kind of love triangle that develops I could have done without. It felt forced because of what they did for a living and not because of who they were.
The only thing that had me reaching for the four star instead of five was the very end. Finding out who the interviewer was made me question the validity of everything I had heard up until that point. I'm not convinced they could be unbiased. The email at the very end really angered me. Again, that felt forced and useless to me.
Overall, I loved this book. I will definitely be listening to it again. And reading through those songs was the greatest!
---
Have you read Daisy Jones & the Six? Let us know what you thought in the comments!
Follow us!