By: Claire Legrand
Empirium Trilogy #2 | 608 Pages | Pub. May 21, 2019
Kingsbane at a Glance
Overall Rating:

★★★★★

Heroine:

I still like one of them

Dude:

*swoons

Steaminess:

Oh they kindle that fire

Brutality:

Pretending that didn't happen
Pairs Well With
Bailey's Comet
1 + 1/2 oz Bailey's Irish Cream
1+ 1/2 oz Butterscotch Schnapps
3/4 oz Goldschlager
1 tbsp 151 Rum
1 dash Cinnamon
---
Review
Thank you to Netgalley and Sourcebooks Fire for providing me with an advanced copy of the book!
I have been waiting for this book for a year! Furyborn was amazing and if you haven't read it yet then GO READ IT. Actually, if you are going to read Kingsbane, a reread or a skim of Furyborn isn't a terrible idea. I was too excited and had to jump right in, but a reread would have been helpful.
I'm leaving this spoiler-free, but there will be Furyborn spoilers since this is a second book. Legrand's writing is amazing. The world-building that we got in the first book seriously pays off. 
We left off after the fire trial, where Rielle killed the king and her father and somehow "brought Ludivine to life" since she is actually an angel. Audric and Rielle are an adorable couple and we get a ton of sweet moments that really hurt.
Audric is my cinnamon roll and I adore him. He is pure and sweet and deserves so much better!
Rielle begins her downward spiral that we know somehow results in Audric's death. She has dreams of Corien and this Corien>Rielle>Audric love triangle becomes a THING.
"Fuck your suggestions." – Audric
I'm going to say this now and you all can hate me, but Corien is a better Darkling than the Darkling. I freaking love him for his manipulating, evil self.
Actually this gif represents how Rielle handles Corien.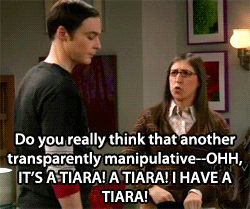 A thousand years in the future… Eliana is with Simon after saving Astovar from the Emperor (Corien). As luck would have it, we get another love triangle with Eliana. As a person who dislikes love triangles, I have to say that these didn't bother me. The love stories truly take a backseat to the queens fight to save the world.
Eliana struggles to accept her magic and who she is. The girl just wants to live with her brother and not be some prophesied queen. Simon, is the best, but he is also driving her to do whatever the prophet says. Honestly, I don't trust this shady AF prophet. But I LOVE Simon. Why do I always have to like the broody, messed-up guy?
My favorite thing about Legrand's writing is that she provokes thought and pushes boundaries that shouldn't exist to begin with. The heroine is allowed to question herself and others; the main character may not be a "good person." but she does what many would in her situation. So many characters do questionable things and have real, human thoughts. They make out with strangers because they are lonely. They realize that loving someone has little to do with them loving you. You can love someone and have no idea who they truly are.
This book is packed with so much action it will make your head spin. There are plot twists and character twists that no one could see coming. And heartbreak. The ending will ruin you. Especially when you realize that the third book is still being written and you won't have it for a year at least!!! I cannot praise this book enough and I can't wait to get my pre-ordered hardback!
---
Have you read Kingsbane? Let us know what you thought in the comments!
Follow us!