By: Karen M. McManus
Standalone | 361 Pages | Pub. 2017
One of Us is Lying at a Glance
Overall Rating: ★★★★
Intrigue:

Harriet the Spy level

Characters:

Serious growth

Steaminess:

So many ships

Brutality:

Minimal
---
Review
The synopsis for this book is exactly on point with the comparisons to The Breakfast Club and Pretty Little Liars. I would also add Gossip Girl to that list because Simon was basically Gossip Girl, but everyone knew it was him.
This was a fun, quick read, especially if you are into thrillers, but don't want another Gone Girl. Don't get me wrong, I LOVE that book, but it is a lot on your thoughts and emotions. I didn't get overly attached to any of the characters in this book and it reads more like a murder mystery than a high-intensity thriller.
"Things'll get worse before they get better."
Our narrators are four murder suspects, which I love because I adore unreliable narrators. You can blame Poe for that.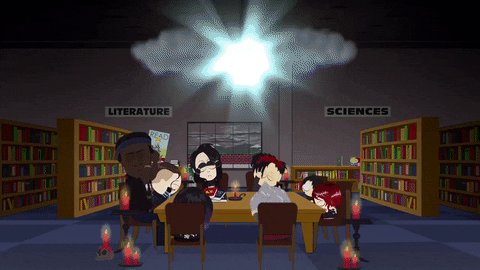 The stereotypes are real for these four. We get a nerd, a jock, a princess and a burnout in detention. But all four of them have secrets and therefore reasons for murder.
I liked all of the characters by the end, but they all had too similar of a voice. Yes, they were distinctive in their stereotype so you knew who was talking at all times (nerd wasn't talking about selling drugs etc..), but their language and speech patterns were all just about the same. This made it difficult for me to get into for the first third of the book. Once I made myself get over that, it was a fun read.
I loved the sister bonding that occurs with Bronwyn, Addy and their respective sisters. Actually, that was my favorite part of the book. The romance was cute, but predictable. But the sister bonding? That truly strengthened the book.
As for the big reveal and finding the murderer? I loved it. I hate to say I saw it from the beginning because I didn't see the whole thing or all of those moving parts and pieces. Most likely, it was just the ending that I wanted and so I was satisfied.
---
Have you read One of Us is Lying? Let us know what you thought in the comments!
Follow us!