By: TJ Klune
Green Creek #1 | 400 Pages | Pub. 2016
Wolfsong at a Glance
Overall Rating: ★★★★
Hero:

I JUST WANT TO HUG HIM!!

Hero:

DO BETTER JOE!

Steaminess: *

fans self just thinking about it

Brutality:

I can't even talk about it
Pairs Well With
The Lone Wolf
2 dashes cardamom
2 oz bourbon
1 oz lemon juice
.25 oz Italian Liquor
.5 oz gum syrup
---
Review
What an adorable and addicting story. I finished this and immediately had to read Ravensong which just addicted me more. Klune created lovable characters who are definitely not perfect. Well, except for Ox because he is basically perfect. Clueless, but perfect.
I saw some reviews that were low because the format and writing is so different. Yes, it is, but it sets the mood. It did take me a few chapters to adjust, but once I did the pacing and format only atmosphere and flow of the book. I couldn't put it down. The ratio of action to description is right on.
Ox is the most adorable and clueless character. We get to see him grow up live through all of his horrible and amazing experiences. He is a little slow, but it was never stated explicitly that he has any type of impairment or condition. Ox just goes at his own pace and it was incredibly refreshing. He is relatable and has such loyalty and a giant heart. Plus, he is fearless. Ox will give anything for the people he loves and he deserves ONLY GOOD THINGS!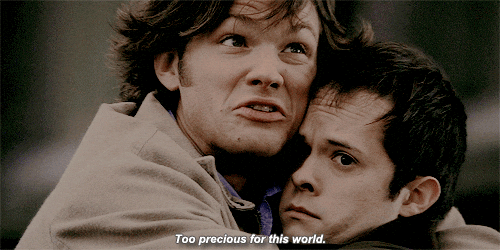 I had some difficulty adjusting my brain to Joe and Ox's relationship. For me, this was because of the age difference (6 years) and that we were introduced to Joe when he was 10. Six years isn't a big age difference. It was more that Joe at 10 and Ox at 16 had a huge gap in what they were dealing with. I knew Joe was the love interest, but I felt that while Joe had clearly been in love with Ox for the entirety of his teenage years, Ox went kinda headfirst into it. He just decided one day that Joe was hot and obviously since it was his best friend if Joe thought they were mates, then Ox agreed.
To be clear… there was never a time when Ox as the older person was inappropriately interested in a child/pre-teen. Joe was 17 when Ox got the hots for him… I feel like it's important to note that.
But Joe running off for vengeance? YES. I mean, I kinda hated him for it and thought it was stupid of him, but I loved that he did that. Joe is human, well… kinda, and  he runs off of emotions and makes mistakes. I love characters with faults so I adored Joe.
There was a ton of action, which was awesome. Plus, necessary deaths which is 100% my thing. It's not realistic to have a war/battle where no primary characters die. That doesn't happen and I get super angry when authors refuse to kill people off. Klune has no such problems and will not only tear your heart out, but scare you repeatedly. I LOVE it.
This was supposed to be a mini review, but I need to gush over these secondary characters.
Rico is hysterical and consistently adds comedic relief in super stressful situations. Carter and Kelly are the brothers we have always wanted. Thomas and Elizabeth are the best parents! Mark and Gordo… we will wait for Ravensong on those two…
I'm 100% addicted and a Klune fan forever. Go read this NOW!
---
Have you read Wolfsong? Let us know what you thought in the comments!
Follow us!