This was much harder than I expected! Mostly because I read a lot of YA and I don't want to live in the middle of a war, even if there are hot fairies.
Top Ten Tuesday was created by The Broke and the Bookish in June of 2010 and was moved to That Artsy Reader Girl in January of 2018. It was born of a love of lists, a love of books, and a desire to bring bookish friends together.
The rules are simple:
Each Tuesday, Jana assigns a new topic. Create your own Top Ten list that fits that topic – putting your unique spin on it if you want.

Everyone is welcome to join but please link back to

The Artsy Reader Girl

in your own Top Ten Tuesday post.

Add your name to the Linky widget on that day's post so that everyone can check out other bloggers' lists.

Or if you don't have a blog, just post your answers as a comment.
---
1. Tella from the Caraval series – I pick Tella just because I like Dante a tiny bit more than Julian. Honestly, I just want to go play Caraval! I love mysteries and solving things. Plus wouldn't you want to go there with your friends?
2. Stevie from the Truly Devious series – Again with the mysteries. There may be higher stakes in this one, with the whole murder thing. But living in the hills of Vermont with a bunch of other geniuses?
3. Calla from The Simple Wild – I need to go to Alaska now. I hate to say I would switch places with someone because of a guy, but have you met Jonah? If not, read immediately and let me know if you agree.
4. Blair From Dirty Exes – First of all, she is a business owner and private detective to catch cheating husbands with her BFF. Who doesn't want to play detective all day and cyber stalk people? Plus, Collin. I'm a sucker for his man bun and snake tattoo. 
5. Rora from Roar – She escapes a horrible situation and she can control/speak to storms. The world is so different, I don't even mind the horrible war that is coming. Plus her squad is #goals for sure.
6. Hermione from Harry Potter – She is seriously smart and gets to go on awesome adventures with her best friends. Plus, I want to be the most badass witch of all time.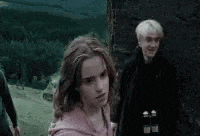 7. Lilah Bard from A Darker Shade of Magic – Lilah just falls into a weird friendship with Kell and then goes on to steal her own pirate ship. She is a badass and I can't wait to finish this series!
8. Aelin Galathynius (After Kingdom of Ash) – I will be honest and say that I don't want to take her place until after all of that nonsense is over. I'm not as tough as Aelin and I never want to have to be.
9. Celia from The Night Circus – Celia's powers are amazing and I want to be a part of that circus so badly! She can just change her clothes and call animals, and don't get me started on all of the amazing things she creates!
10. Blue Sargent from The Raven Cycle – Blue gets to hang with the coolest group of guys ever AND she has an amazing family. I need to see cabeswater for sure.
---
Who would you switch places with? Let us know in the comments.
Follow us!