Laughin Listener  tagged me in this post a few weeks ago so of course I have to do it. She may abandon me as a friend after reading my answers, but I swore to tell the whole truth and nothing but it!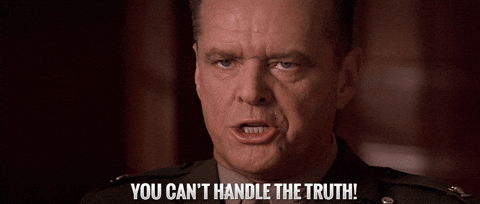 RULES
Answer these questions truthfully.

Once you're done, tag 5 other book bloggers to answer these questions next.
---
WHICH BOOK, MOST RECENTLY, DID YOU NOT FINISH?
I'm dubbing January "The Month of False Starts." I have started reading and stopped on like 5 books that I WANT to read. I just wasn't feeling them. The last book I DNF'd and have no intention of finishing was The Bird and the Blade. The MC fell in love with someone she spoke to one time and then followed him through the snow. Get some self respect and then get back to me.
WHICH BOOK IS YOUR GUILTY PLEASURE?
Everything by Crystal Kaswell. Tattoos, rock stars and an emo vibe. I'm here for it.
WHICH BOOK DO YOU LOVE TO HATE?
All of Twilight. I think Breaking Dawn just made me laugh because it devolves so quickly. BUT, the characters are fantastic and I got through all of them back in the day.
WHICH BOOK WOULD YOU THROW INTO THE SEA?
I almost threw Illuminae into the sea at the end, but now I would NEVER. It's an amazing book.
WHICH BOOK HAVE YOU READ THE MOST?
I don't reread very often, but I would say Wuthering Heights, because it is my favorite and I life to reread it from time to time.
WHICH BOOK WOULD YOU HATE TO RECEIVE AS A PRESENT?
I don't think I would hate any book as a present. Worst case, I can give it to someone who wants it.
WHICH BOOK COULD YOU NOT LIVE WITHOUT?
I just imagined my house on fire and me getting stuck in it because I couldn't choose a book from my shelf.  I may have to say the entire Throne of Glass series. If that happens, I'm never getting out alive.
WHICH BOOK MADE YOU THE ANGRIEST?
The Grisha trilogy made me super angry. Siege and Storm more than the other two. I just don't understand Alina at all! But for Nikolai, Mal and the Darkling I loved it.
WHICH BOOK MADE YOU CRY THE MOST?
It's not easy to make me cry. When I say a book made me cry, I mean that I teared up. Pages aren't warping because of my emotions. I ACTUALLY cried reading Harry Potter and the Deathly Hallows.
WHICH BOOK COVER DO YOU HATE THE MOST?
Friends are going to hate me for saying this, but I don't like the cover of Bring Me Their Hearts. There is so much going on on the spine that I can't read the title and Zera looks dead-eyed on the front. She is so feisty come on!
---
That's it! I'm tagging Books in the Skye, Keeping up with the Penguins, Ebs and her Reads, Raya's Reads, and Witty and Sarcastic Book Club.
As always, if you don't want to do the tag, no worries. Let's just do what we want!
---
Do you agree? Let us know what you thought in the comments!
Follow us!