By: Amanda Bouchet
Endeavor #1 | 416 Pages | Pub. Jan 1, 2019
Nightchaser at a Glance
Overall Rating: 3.5
Heroine: Rebel to the core
Dude: Make a decision man!
Steaminess: Titanic hand on the podship window
Brutality: Chopping off your own hand
Pairs Well With
The Moonwalk
1 part fresh grapefruit juice
1 part Grand Marnier
2 dashes of rosewater
champagne
---
Review
Thank you to Sourcebooks for the advanced copy of the book in exchange for a honest review.

I'm a huge fan of The Kingmaker Chronicles, in fact it was our first review on this blog! So when I saw that Bouchet was releasing a new series I started drooling immediately.
I'm not really into Sci-fi, but I was willing to give it a chance based solely on the premise of getting another Griffin character.
I want to give this book 4 stars. Actually, I did and then knocked it down. Honestly, the book needed another pass before handing it out. I did get an advanced copy months ago so I'm sure the finished version will be more polished, hence my desire to give it 4 stars.
The characters are rich, but I feel like I could have used a little more show and a little less tell. Most of the story is in first-person from Tess's perspective. I struggled switching from her first person to Shade's third-person.
Those things aside, this is a fun adventure. Tess's crew is a mismatched bunch of rebel escapees who have seen some shit. The friendships that they have are so sweet and I really connected with the crew. She even gets a cat. A SPACE CAT. It's adorable.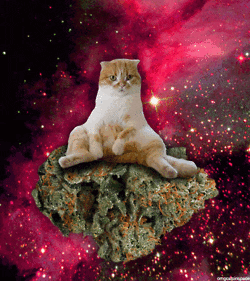 Tess is smart and yes, she is a special sparkle, it gets a tiny bit annoying, but I can overlook it because she is also a badass. The overall plot revolves around Tess being a special snowflake which I didn't love, but I also didn't mind too much because she is trying to take down the patriarchy. I think she would even if she wasn't special because that is just who she is. She has zero fear and doesn't waffle back and forth on things. Tess knows what needs to be done so she basically becomes space Robin Hood.
I kind of want to be Susan. She has a book store full of contraband and so many cats she stopped naming them. It's amazing and she is the real hero of this story lol.
I liked Shade? I see Griffin potential in him so I will stick with him, but he went from $$ to love REAL QUICK. This is not a slow burn. There is some insta-love so run if it's not your thing, but their chemistry is great so it's a little more believable. I did like that Tess and Shade didn't just vomit up their secrets to each other immediately. There was an element of "what's going to happen?"
So, if you like space cats, space pirates, alpha man and SECRETS, you will like this book. If you don't normally like space books you also still might enjoy it.
---
Have you read Nightchaser? Let us know what you thought in the comments!

Follow us!