By: Cassandra Clare
The Dark Artifices #1 | 669 Pages | Pub. 2016
Lady Midnight at a Glance
Overall Rating:

★★★★★

Heroine:

Queen of breakups

Dude:

He slytherin-ed into our hearts

Steaminess:

Private beaches 👌🏻👌🏻

Betrayal: Victoria Aveyard would be proud
Pairs Well With
After Midnight Martini
1 cup chocolate-flavored vodka

1 cup vanilla-flavored vodka

½ cup coffee-flavored liqueur

Ice

Chocolate covered espresso beans & chocolate shavings
---
Our Review
Alright, Cassandra Clare take our money. Just take it. Because we officially bow down to Clare's prowess and are suckers for this new venture into the Shadowhunter world. What we love most about Clare is that with each new book her writing, world building, and characters improve immensely. Lady Midnight hooked us from page one and by the end we were practically tattooing ourselves with runes.
"You told him Shadows are DIY about their killing?" "We're DIY about everything."
This is clearly going to be the best Shadowhunter series yet. While the plot picks up five years after The City of Heavenly Fire and the Dark War with Sebastian, this new series is unique and gives us a deeper dive into Shadowhunter and Downworlder lore. Lady Midnight was the perfect mixture of plot and character driven with the right amount of mystery. And it wouldn't be a Cassandra Clare book if there wasn't some angst. The characters are witty and engaging and the plot simultaneously pulls at your heartstrings (we want to smother those kids in hugs and kisses), shocks you, and makes me want to pick up your seraph blade to fight evil.
"This cat is looking at me with judgement… You look at me the same way. Judgy face."
We LOVED the LA Institute Gang – I mean, how could you not? They are freaking precious. Tavvy with his tendency to hang out in bags of sugar, Drusilla and her obsession with true crime (same, girl, same), Livvy and her fierceness and loyalty, Ty and his love for Sherlock Holmes, and sweet, sweet, Julian who we want to hug and learn from his diabolical ways. And Emma. Our mini-Jace, sass queen, master of breakups, and all-around life goals. She doesn't hold back and we LOVE her for it. And Cristina, this girl is perfection. Where can we get a balisong? And finally Mark. Mark. Mark. Mark. Mark is complicated and hilarious. All of them are perfect and we want to squish them with love.
"And why is Tavvy in a bag of sugar?"

Mark shrugged. "He wanted to be in a bag of sugar."
Lady Midnight is also the funniest Shadowhunters book yet. Between kids in bags of sugar, judgey cats, llama contact photos, and oblivious and perfect Diegos, you'll get a workout from laughing. But in typical Cassandra Clare you'll be hit by the feels. Brutality, heartbreak, tragedy, betrayals, and star-crossed lovers, oh my! And the prejudism. Most of this book will have you wanting to throw history books at the Clave and shout at them about not learning from the mistakes of the Treaty of Versailles?!!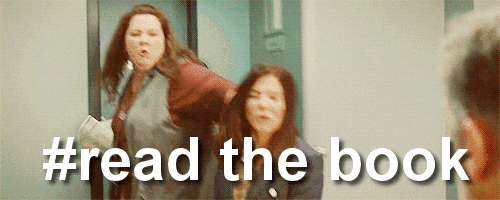 "This is about me, not you. I am sick of you."
If you are being stubborn and resisting the call to read this book because you didn't love The Mortal Instruments series you are making a mistake because this book takes all the great parts of the MI series and improves upon them. Plus, you get snippets of Magnus. DO IT FOR MAGNUS, OK?!!!
---
Have you read Lady Midnight? Let us know what you thought in the comments!
Follow us!
Twitter || Goodreads || Instagram