By: Jenny Han
To All the Boys I've Loved Before #1 | 355 Pages | Pub. 2015
To All the Boys I've Loved Before at a Glance
Overall Rating:

★★★1/2

Heroine: Queen of Awkward Drama
Dude:

Modern day Freddie Prinze Jr.

Steaminess:

We all saw that hot tub scene

Emotional: *plays garbage on repeat
Pairs Well With
Chris's Shampoo Bottle Tequila
Our Review
Since Netflix announced a movie, this book has been EVERYWHERE. We don't review contemporary YA for the most part, because it just isn't necessarily our thing. But we had to make an exception for our good friend @ReadbyDev because she has a serious obsession with Mr. Peter Kavinsky. Honestly, I think she just wanted more of my text rants. What can I say, they can be EPIC.
Taking my brain back to high school wasn't that hard. Laura Jean is hilarious and I feel a serious connection with her level of awkward drama.
"I collapse on the floor. This is a horror movie. My life has become a horror movie."
I was SUPER dramatic as a teen and I adore her drama. When I finished reading this I had to listen to "I'm Only Happy When it Rains" on repeat for at least 2 hours.
But Laura Jean is so relatable, I think this is an awesome book for teen girls. She stands up for herself and knows how to ask for forgiveness when she needs it. Plus, she is correct that Prisoner of Azkaban is, in fact, the best of the series.
Peter is such a stereotypical high school guy. And I guess he is supposed to be, but I was still only mildly impressed with him. He does some really sweet things, like drive his mom's minivan so that Kitty can go with them to school, but he is also a super jerk sometimes. In no way are you allowed to just ditch plans with her for your ex girlfriend! Hard No. DO BETTER PETER.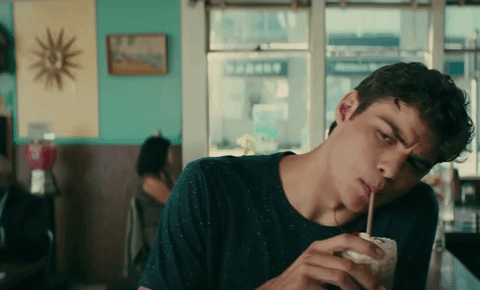 I go back and forth on Chris. She was a terrible friend, but then would do something hysterical and amazing. Courtney love Halloween outfit…. AMAZING.
"I almost got into a fight with this girl who kept saying I was wearing extensions. It's not my fault my hair is fabulous."
If she was less of a jerk she would be my forever spirit animal.
Margot was way harsh in the book. She is better represented though, as she reacts to the drama unfolding and you can see more of her feelings. In the movie she smiled and said everything was okay. Not realistic for an 18 yr old girl. So while, Margot was a jerk, it was understandable.
Josh. You do not get any of my words. Go figure your brain out dude.
At some point, I will finish these off because I don't like to leave a series hanging and I promised Dev that I would. The PK love is REAL and I have to decide if it's for me too.
In the meantime, I will be listening to Shirley Manson and reliving all of my teenage angst.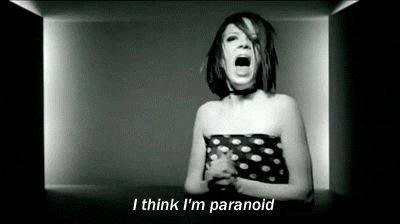 ---
Have you read To All the Boys I've Loved Before? Let us know what you thought in the comments!
Follow us!