By: Sara Raasch
Steam Raiders #1 | 480 Pages | Pub. 2018
These Rebel Waves at a Glance
Overall Rating:

 ★★★

Heroine:

Politician, assassin, botanical-magic-expert, crocodile hunter. Lu does it all!

Dude 1:

Ben was better than melatonin for my sleep schedule

Dude 2:

Thank the pious god for Vex's sense of humor

Steaminess:

N/A

Brutality:

Child soldiers being tortured
Pairs Well With
Velvet Punch of Death
3oz pineapple juice

3 oz lime juice

1oz silver rum
Our Review
"I'm so mad at this church I want to hurl my book out the window." – Jess
Wow, we were vastly disappointed by this book. We were expecting badass pirates and magic but what we got was the Spanish Inquisition meets Salem Witch Trials. The extreme religious aspect of this book was uncomfortable and the direct ties to the Spanish Inquisition made it feel like more of a history textbook than a novel. The blurb to this book felt misleading, since we thought we were getting pirates, not a medieval version of Scandal without the intrigue. This book was mostly dry and boring and probably not a series we will stick with.
What We Didn't Like
The Politics – We can handle politics, rebellion, and the battle against an oppressive regime. But Raasch didn't deliver this content in a way that was even remotely entertaining. We felt like we were watching C-SPAN at several points of this book.
Child Soldiers & Killings – War is brutal, we get that (and hate it). We get that children are often forced to become soldiers in many wars but honestly, Lu's parents forcing her to KILL people and commit dangerous acts as an eleven year old was just disturbing. Hard nope.
Religious Persecution – This book had no chill when it came to the religious aspects. If you are someone who is uncomfortable with religion in books then this book is not for you. It's hard to stomach the intensity and constant reference to burning and torturing "heretics" (including children) was disturbing.
The Worldbuilding – There was a LOT of worldbuilding and backstory in this novel. Raasch throws so much information about the different factions on the island, the colonial and religious extremists society of Argrid, that it's hard to connect to anything at all. It would've been easier if the worldbuilding had been done gradually instead of all at once.
What We Liked
The Magic – The idea behind the magical botany was unique – definitely something we haven't seen much of and the different uses of the plants were cool to watch. I 100% want some of those ear beans to spy on people. Well done, Raasch.
Lu's Dark and Twisty – Lu was the most interesting character in this story. We loved her dark and twisty nature – it was realistic after learning her experiences as a child soldier in the revolution. Watching Lu experience the jarring reality of what life on the island of Grace Loray and re-configuring her world view to match reality was interesting. Lu made this book bearable.
The Heartbreaking Romance – There was not much romance in this, but for a while I really thought we were going to have a Kurt and Blaine moment, which made my heart really happy.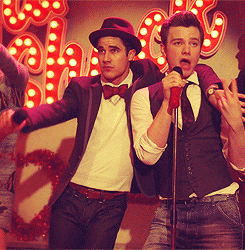 The Ending – Honestly, the ending was a WHOA for us and the only reason we are giving it 3 stars. Finally, we got some action and shocking revelations and talk about a cliffhanger!
---
Have you read These Rebel Waves? Let us know what you thought in the comments!
Follow us!
Twitter || Goodreads || Instagram