By: S.A. Chakraborty
The Daevabad Trilogy #1 | 533 Pages | Pub. 2017
The City of Brass at a Glance
Overall Rating:

★★★★★

Heroine:

The female Aladdin we NEEDED

Dude 1:

You had one job, Ali!!!!!

Dude 2:

MAKE BETTER CHOICES!

Brutality: A child was melted to a boat. WTF
Pairs Well With
The Genie
½ oz simple syrup

1 oz sloe gin

1 oz gin

Crushed ice

1 oz lemon juice

Mint leaves
---
Our Review
"I am not a human." – Teagan, after reading this book.
To say that we loved this book would be an understatement. We are so broken. This book ruined our souls and we don't know who we are anymore. This book was A-M-A-Z-I-N-G. Sure, we hate what it did to us emotionally, but it was pretty life-changing and we regret nothing. If you are sitting their asking yourself "should I read this book?" the answer is YES. Stop what you're doing and read it now!  You'll fall in love with this story, the characters, and the world.
Why You Will Love This Book (Spoiler Free, but Wine Induced)
City of Brass starts off with a bang – female con artist, an exorcism, ZOMBIES, magic carpet rides! You'll be hooked from the get-go, we guarantee it.
The worldbuilding was vivid and you will find yourself entrenched in the city of Daevabad. The descriptions of the different tribes, their customs, the rivalries, the history. All of it was captivating, brutal, but captivating. This diverse fantasy story deserves so much more hype and appreciation!
"If you say I can't tell you, I swear on my mother's name I will stab you with your own knife."
Nahri, oh we love Nahri. If there is anything we truly love in a book it is a solid and feisty female character. Nahri checks every box and more. She is practically Aladdin, running around the streets of Cairo, kind of doing exorcisms. She does have powers, but since she isn't a moron, she knows how to use them and not make a scene. Nahri stands up for her beliefs and will yell right in your face if you are an idiot. #MUCHLOVE
Dara. We hate you and we love you. Dara is an asshole, but he is also such a doll. He knows all of Nahri's buttons and pushes them to get her attention. Nahri is obviously his weakness and breaking all of his own rules looks good on him. The love he has for his people and Nahri slayed us. 
Plus, he is super hot.
"I'm coming back Nahri. You're my Banu Nahida. This is my city. Nothing will keep me from either of you."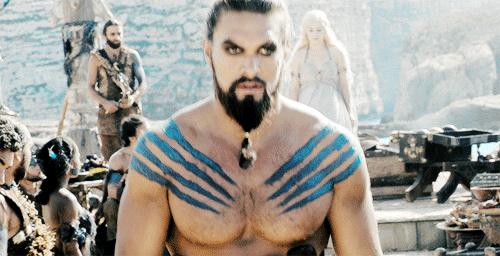 Ali. Alright, this Prince Ali Fabulous He IS NOT.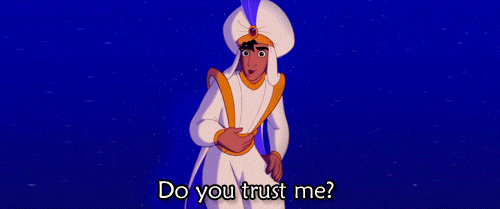 Unlike Aladdin, this is not a Prince you should take a magic carpet ride with. You should not trust this slimey dude. Ali had such promise, he loves his family and his God, but ultimately he ends up a disappointing little racist. But since every book needs a villain and Ali is a complicated one that'll keep you flipping pages.
The way this book portrays racism and systematic oppression is powerful. We find it hard to believe this is Charkaborty's first novel because her writing makes you feel as though you are a part of this world and gear up to join the revolution.
The Mystery. There is so much mystery surrounding Nahri's heritage, Dara's past, and the whole epilogue situation. You won't be able to put this book down because you're going to be dying to know the answers to all these questions!
---
Beware spoilers ahead….
………..
……………..
………………….
……………………..
SPOILERS
The last 20% of this book destroyed us. Honestly, we probably would've been okay if it ended with both Ali and Dara (Racist MFers) dead and Nahri queen of the universe. But this is not a standalone so we are excited to see what Nahri does next.
GOD DAMNIT, ALI. You had one job. Everyone knows you don't give out your real name in fantasy books. It's like giving out your social security number. YOU DON'T DO IT, you peasant.
Now Ali is the creepy guy from Pirates of the Caribbean and we are not sorry for him.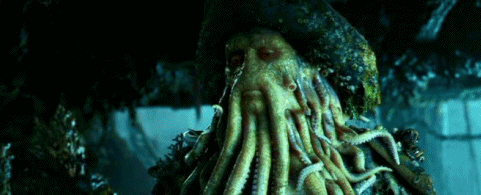 And Dara, you little Tamlin shit. Don't think we aren't going to call you out on your shit just because you went and freaking died. We didn't even get a chance to be properly angry at you for going all caveman apeshit crazy before you turned to ash so we are doing it now. So, first off how dare you. Second off HOW DARE YOU.
Omg the poor peri that died!! Why!?!?!!
---
Have you read City of Brass? Let us know what you thought in the comments!
Follow us!