By: Maggie Stiefvater
#1 in The Raven Cycle | 409 Pages | Pub. 2012
The Raven Boys at a Glance:
Overall Rating:

★★★★

Heroine:

She is her own person

Dudes:

Four book boyfriends!

Steaminess:

There will be no kissing!

Brutality: Human sacrifice
Pairs Well With:
Blue Monday
2 oz vodka

¼ oz triple sec

¼ oz blue curacao
Beware. Spoilers are coming…
Review
I was scared to read this book because it has such a dedicated following and I was worried that I wouldn't like it and subsequently get blacklisted from the book blogging community forever. The only Stiefvater book I had read was Shiver and that book…well let's just say it wasn't my favorite. So to say my hopes weren't high going into this is an understatement. But The Raven Boys came through for me! You can't not love them. Well, some of them.
Blue – This girl is pretty awesome. Blue does her own thing and is 100% her own person. When the boys take interest in her, she doesn't second guess herself and just melts into their little group. Her style is perfect teenage emo, which I super appreciated and her sense of humor is on point. I'm 100% team Blue.
"Fate, is a very weighty word to throw around before breakfast." – Blue
Gansey – President Cellphone is my second favorite Raven boy. From his stupid boat shoes to his yellow polos, his style drives me insane, but I will forgive him those faults since he is smart and driven and adorable. And his confidence and loyalty to his friends is admirable. He mothers everyone and makes it seem natural.
"Blue tried not to look at Gansey's boat shoes; she felt better about him as a person if she pretended he wasn't wearing them."
Noah – Oh Noah. I called that from the beginning, but I love that he is so honest about everything and just trying to figure out who he is now. So cute.
Adam – I call him Matt Donovan. Yes, Adam has had a really tough life, so I should cut him some slack, but I found him so boring that I couldn't figure out what Blue saw in him. He just reminded me of Matt Donovan from The Vampire Diaries. Everyone was confused that he hadn't died yet and he debbie downer-ed everything. I have been told I will love him later, so hopefully that happens.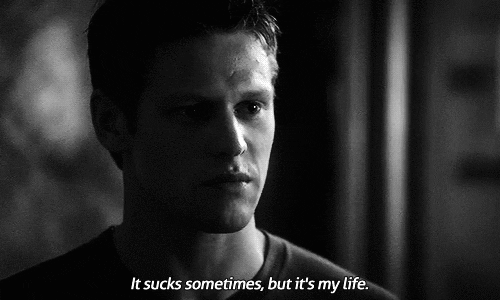 Ronan – #1 Raven boy right here. Ronan had me laughing the entire book. He gets drunk, finds a raven and names it chainsaw. CHAINSAW. Ronan is meant to be the dark and twisty one, which he is, but he also provides so much comedic relief with his sarcasm. I can't wait to see more of Ronan and his pets.
"Get used to some turbulence you little bastard."
The Raven Boys surprised me in the best way and if you haven't read it for fear of Shiver then you should give it a try!
---
Have you read The Raven Boys? Let us know what you thought in the comments!
Follow us!