By: Nalini Singh
#2 in the Psy-Changeling Series | 332 Pages | Pub. 2007
Visions of Heat at a Glance
Overall Rating:

★★★★

Heroine:

Rapunzel had more contact in her tower

Dude:

Chris Hemsworth is a jaguar

Steaminess:

50 shades of shifter

Brutality: Death by mind overload
---
From Goodreads
Used to cold silence, Faith NightStar is suddenly being tormented by dark visions of blood and murder. A bad sign for anyone, but worse for Faith, an F-Psy with the highly sought after ability to predict the future. Then the visions show her something even more dangerous – aching need…exquisite pleasure. But so powerful is her sight, so fragile the state of her mind, that the very emotions she yearns to embrace could be the end of her.
Changeling Vaughn D'Angelo can take the form of either man or jaguar, but it is his animal side that is overwhelmingly drawn to Faith. The jaguar's instinct is to claim this woman it finds so utterly fascinating and the man has no argument. But while Vaughn craves sensation and hungers to pleasure Faith in every way, desire is a danger that could snap the last threads of her sanity. And there are Psy who need Faith's sight for their own purposes. They must keep her silenced – and keep her from Vaughn.
---
Our Review
This is the second in a fun paranormal series, but don't worry if you haven't read Slave to Sensation, you can dive straight into this one.
If you are in the mood for a romance with perfect chemistry, then this is your book. Vaughn and Faith couldn't be more different, but they are magic together. Her cold is so well-balanced by his hot and steamy that it makes for a great read.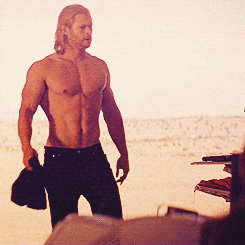 I have some serious heart eyes for Vaughn. Not only is he your strong and handsome man, but he isn't an overprotective asshole! He allows Faith to grow and while he pushes her, he forces her to make her own decisions. And I might have a thing for tall, built fabio-looking men…
"That's where you're wrong baby. I'm as animal as they come."
The psy world is a tough one, run by a bunch of psychopaths, but we get into the bigger picture toward the end of this book and now I have to finish the series immediately. The ending was sweet, showing us that some of the psy have some humanity in them, and it made me want to hug my daddy immediately. Highly recommend this one if you want a quick and exciting romance!
---
Have you read Visions of Heat? Let us know what you thought in the comments!
Follow us!