Happy Monday, book friends! We are back from a weekend break from the blog and have a fun book tag for y'all today! It's originally from Youtube and was created by NEHOMAS2. We've seen this tag floating around the blogverse and just had to do it!
---
The Rules
You can invite any character you want, but there are 10 different categories you need to fill, and there is only room for 11 people…
The Guest List
One Character Who Can Cook/Likes to Cook
Molly Weasley from Harry Potter. This is the only choice. And if she wants to magically bitch slap Maeve here while she's there, we wouldn't be mad.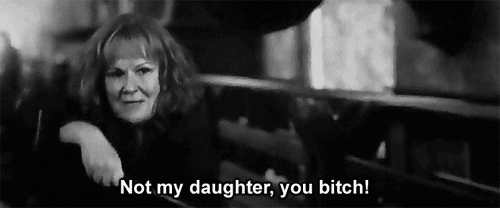 One Character Who Has Money to Fund the Party
Legend from Caraval. Not only does he have the money, but he is the best at throwing parties. We certainly wouldn't be bored with all of his "party games."
One Character Who Might Cause a Scene
Maven Calore from Red Queen – Seems like the perfect choice because when doesn't Maven start a scene?
One Character Who is Funny/Amusing
Jace Herondale from The Mortal Instruments. Nobody loves Jace more than himself and his humor and dry wit are just what a snarky dinner party hosted by us would need.
One Character Who is Super Social/Popular
Magnus Bane from The Mortal Instruments. Magnus knows how to throw a party and keep that party going. Plus, EVERYONE loves Magnus.
One Villain
Maeve from Throne of Glass. Wouldn't it just be too bad if Maeve accidentally (on purpose) contracted food poisoning and died? Would save us from a lot of heartbreak in Kingdom of Ash.
One Couple – Doesn't Have to be Romantic
Aelin Galathynius and Rowan Whitethorn from Throne of Glass – every party needs some swagger and the ego between these two would be legendary to watch. TBH I just want to drool over Rowan all of dinner.
One Hero/Heroine
Elian from To Kill A Kingdom. He is witty and sarcastic which is just our humor type, so we would definitely love to hang with this pirate. Besides, someone has to bring the rum.
One Underappreciated Character
Jovan from The Tainted Accords. Who else would eat shirtless and go around slamming doors? Plus, he wouldn't' be bad to look at either. Let's add him to our list of dudes to drool over.
One Character of Your Own Choosing
Lazlo from Strange the Dreamer because he would be the only reasonable person to talk to at this table. He is super smart and likes all of the same things we do.
---
We Tag! 
Anyone who wants to do this one. Please tag us so we can see your answers!