By: Adrienne Young
Standalone | 340 Pages | Pub. 2018
 Sky in the Deep at a glance:
Overall Rating: ★★★★★
Heroine:

Hide yo heart cuz this Viking chick is going to steal it

Dude:

I'll go where you go, Fiske

Steaminess:

The kind of slow burn that melts glaciers

Brutality:

11 year olds "finishing off" fallen soldiers
Pairs Well With:
The Viking Storm
2 parts Sap House Meadery's Sugar Maple Mead
1 Part Ginger Beer
Beware, spoilers are coming…
---
Teagan's Reactions
"The moon rose up over my broken home and I broke with it."
This book stole my heart. I expected to love it – Vikings, brutality, and a strong female character? Totally up my alley. What I wasn't expecting was the rich world and emotions this book would rip out of me. Young's writing style was beautiful, especially her descriptions of the brutality of battle (hello ripping out eyeballs!) and the struggle of overcoming generations of prejudice. Almost every word of this book pulled at my heartstrings and made me feel all the things. Plus, I was never bored or confused which is a rare occurrence for me in most fantasy novels.
"We've been taught our whole lives that we're different from each other. But we're the same…"
I enjoyed the traditions and customs of the Riki and Aska clans. Yeah, a lot of them were brutal and centered around killing each other… But the descriptions and emotions Young evoked in these scenes were beautiful.  I loved watching the two clans come together to overcome their differences and realize that they were more alike than different.
"I could still see a young Eelyn standing on the beach turned into the wind, a sword in one hand and an axe in the other. I hadn't lost her. I hadn't buried her. I'd only let her change into something new."
I loved Eelyn. She's the typical ferocious and brutal character you'd expect in a Vikings-esque novel. I knew I'd love her during her grand theft equine scene but she stole my heart with the evolution she went through in this book. Her entire life has centered around killing her enemies but as she spends time with the Riki she realizes how alike the two clans are she grows and is willing to set aside prejudice to save her people. Eelyn was so realistic and honest that I felt that I was evolving with her. Plus, her friendship with Myra and love for her brother and father slayed me. TBH though, this chick terrifies me and if I saw her on a battlefield I'd just drop dead in defeat on sight.
"I promise not to kill you if I ever see you in battle."
Halvard is my favorite little kid ever. I want him in my life. Really, I can't think of many characters in this book that I didn't love. Besides, Thorpe who I hope met the pointy end of a Herja's sword. I loved Fiske and Eelyn's relationship. Enemies to lovers is the best trope IMO. Plus, how often does an alpha male apologize and give up his life to go with her? Rarely! Loveeedd it.
---
Jess's Reactions
Ok, I am really confused. I read a bunch of reviews that said that this book was regurgitated YA and there was nothing new or different about it. What book were you reading? I knew I wasn't going to like this, I went into it ready to not like it.
Guys, I LOVE this book.
It was refreshing not to have an entire YA novel where you have angsty love thrown back and forth in your face. Don't get me wrong, Feysand is #relationshipgoals, but I find that my favorite YA books tend to have less of the making out and more of the stabbing people.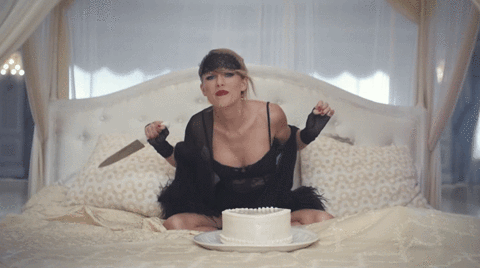 This world was brutal. Child soldiers brutal. But also vivid and loving. It felt like I was in a viking village instead of chillin' on my couch with the dog. These families love each other so fiercely and I am all for it. Every little bit that was added to the worldbuilding was done just right. The rituals and different gods were laced into everything from war to good night prayers.
Extensive battle and action scenes are too much for me generally, but I didn't skip over any of the fighting scenes. I ate them up and even reread some of them.
I have found my viking soulmate In Eeyln. She is so emo and insane and I want to be her. I mean, I wear a lot of eyeliner, but I think I want her kohl tutorial…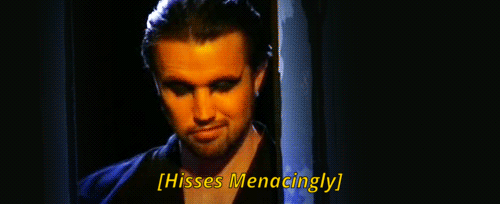 Like I need her in my squad asap. She can pop people's eyeballs out and I will kick them with my combat boots. Done.
Fiske, my dear, brutal, gorgeous warrior man. Actually, she never says he is good looking, but I decided that he has to be something like this.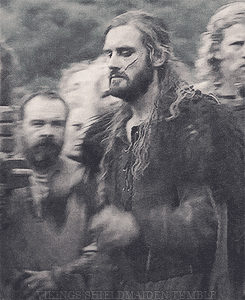 The end of this book gave me the whole Meredith and Derek thing again, but this time HE DOES PICK HER. He went full Rowan status on me and to whatever end-ed this thing.
Heart is sunk. You win Fiske. You win everything.
---
---
Have you read Sky in the Deep? Let us know what you thought in the comments!
Follow us!
Twitter || Goodreads || Instagram Teagan || Instagram Jess