By: Claire Legrand
# 1 in the Empirium Series | 512 Pages | Pub. 2018
Furyborn At a Glance
Overall Rating: ★★★★ 1/2
Heroine: Daddy issues +
Steaminess:

Setting the room on fire…literally

Emotional:

Bring us chocolate pronto

Brutality: 

Poor horsey

Should You Read This Book?: 100% yes
Pairs Well With
Dragon's Breath Shot
1 part Absinthe

2 parts Raspberry Liqueur
We would like to thank NetGalley and SOURCEBOOKS Fire for providing us with an advanced copy of this book for a fair review.
We were a little worried that the hype would get the best of us on this one, but we really, truly loved it. The main characters were engaging and not pushovers and the romance took a backseat to the action, which was a nice break. TBH Jess loved this book so much that she bought a hardcover immediately after reading because she felt like she had cheated someone by keeping only the free copy. Here's a breakdown of our feels….
Beware. Spoilers are coming…
---
Things We Liked
The Worldbuilding –

This is honestly one of our favorite things of the book. The mythos Legrand developed is deep and complex and you can feel yourself getting immersed in the history of this world. The split chapter perspectives and inclusion of primary source like snippets at the beginning of the chapters added a nice touch that really hooked us into this book.
Ludivine & Navi –

We got some solid female friendships in this book. Both Lu and Navi were #friendship goals to the extreme. They watch their friends' backs and are pretty legit. Navi gave me some serious Nehemia vibes at first, but Lu took the win on keeping secrets like Nehemia.
Remy –

OMG if only little brothers were really as cute as Remy! This kid really stole the show with his sincerity and love of history. Remy has me wanting to introduce myself to everyone saying "Well met, good sir."
Harken –

My heart. I am just going to plug my ears and pretend that didn't happen because I loved Harken. He had the most epic goodbye moment. I felt like I was in a Nicholas Sparks movie for a minute there. If he didn't survive I may throw the book.

Audric –

Ok Audric is a little too high on the pedestal for my liking, but he was such a sweetheart to Rielle. Honestly, I don't think I let myself get attached to him because the prologue told me he was going to die and I am not that cruel to myself.  

The Fight Scenes

– I got total Princess Bride vibes from the fight scenes – especially between Eliana and Simon with their solid banter. Legrand knows how to write a good battle scene that keeps you on the edge of your seat.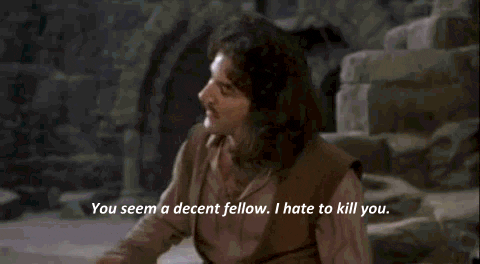 ---
Things We Have Mixed Feelings On
Rielle –

I have some compassion for Rielle because she has some serious daddy oppression issues. I would keep my secrets too if my father thought I was a murderer. And how well do you think "Hey guys, someone is talking in my head" is going to go over while you are on trial? Not well. Audric is too trusting to tell anything to so it's not like she has a real outlet. It's also rough to like her because you know that she becomes the evil queen and basically kills everyone. I like that she is trying to fight the evil even though it isn't going to work.
Eliana –

Eliana is a little shit but we think we love her? She reminds me of Celaena, but with less snark and less feelings. I didn't think that was possible, but alas, we have Eliana. She is brutal and take no prisoners, but she lacks that schemey aspect. I think her and Simon will make a pretty great team if they ever figure out how to deal with each other.
Simon –

I do not appreciate his "omissions," but I have a hard time faulting him since Eliana is pretty difficult to deal with. He was funny and schemey and I just adored him for the majority of the time. His brutality with the prison explosion is going to be hard to get over.

The Cliffhangers –

Every chapter just wrung as much emotion out of me as it possibly could. But to be honest, I loved the split perspective with cliffhangers. It kind of reset me for the next chapter because I knew I would get an emotional break from whatever was happening with Rielle or Eliana. On the other hand, it made it to where I could not put this thing down.
---
Things We Didn't Like
The Crawlers

– I could have done without angels going on all Nazi and kidnapping women to experiment with and turn into zombies. I didn't ask for this. And her mother… Ick.
Corien –

I am dying to see how Rielle got from "guy in my head" to committing murder for this POS because I am NOT A FAN. Corien is basically Satan with his whole fallen angel thing. And mind control is not fucking cool.
How no one communicates –

This could also be named "no one tells anyone anything" for the lack of communication. Maybe they could actually have a chance against Corien if anyone said anything. At all. Ever.
Rielle's Dad –

He was an absolute bastard to her for most of her life and I kinda blame him for her moments of insanity. What father outright calls their five year old a murderer? And drugs his daughter locks her up in the basement for having the audacity to have feelings? Still, that last scene with him broke my heart into pieces.
Tal –

This dude is just as bad as Rielle's father and he is complicit with the psychological and mental abuse Rielle experienced her whole life. He even drowns her! She's forced to live a life without emotion, no wonder she explodes and ruins the world with mentors like these two.
Arranged marriages –

Someone tell me how Queen Genoveve is so in love with the king, but forces her son into an arranged marriage. Does not compute.

The explosion of the prison

– Well let's just include the prison in that one. The whole situation with children stuck behind bars and then Simon being forced to execute them all was pretty horrifying.
---
Favorite Quotes
"What are you?" "I am your doom."
"Well met, good sir. Might I offer you a comb?"
"But never, in all of her blood-soaked daydreams, had Eliana imagined the Emperor's voice to sound quite like this."
"Doubtful. That bitch was a lot of things, but she wasn't sloppy."
"Yes. In secret, of course, but soon. And as often as possible, so i'm spared the agony of your tortured pining. It's exhausting to witness. I've reached my limit."
"If there is wickedness inside you, Rielle, then I shall treasure it as I do every other part of you." 
---
Have you read Furyborn? Let us know what you thought of it in the comments!
Follow us!
Twitter || Goodreads || Instagram Teagan || Instagram Jess