Thanks to James @ This is My Truth Now for the nomination. He was tagged in so many posts that he did a hybrid post and let us choose the award which makes me pretty happy. Choose your own adventure is basically how I live my life.
Teagan and I are in a similar boat and will be tag-teaming some book tags (say that three times fast) over the next week so for this one you just get me, Jess.
Some Rules
Thank the blogger who nominated you and provide a link to their blog.

Give a brief story of how your blog started.

Give two pieces of advice to new bloggers.

Tag other bloggers you'd like to give this award to.
---
The History of Fiction No Chaser
Fun fact. Teagan and I have never met in person. I know, everyone's heads are exploding right now. I worked with Teagan's BFF for life who told me that I was so much like her best friend that we are basically the same person. Said friend is an amazing human but was tired of both of us talking at her about books constantly, so she started a text group and said "Here. You two talk to each other."
Thus began our year+ texting friendship.
In January we were sending thousands of gifs and quotes and hilariousness back and forth when we realized that someone else truly needs to see our hilarity. And that thought became Fiction No Chaser.
Update: We are meeting in person on Friday when Teagan is in Houston! Margaritas in celebration will be the drink of the weekend.
Two Pieces of Advice
---
Get a helper. I am not the most friendly of people and Teagan balances my grumpy emo self. I like to think that I also add something to this relationship, but that may be TBD.  This doesn't need to be another author to your blog, but creating a friendship with someone who knows what they are doing is invaluable. You always have the amazing book blogging community.
Don't stress about a blog. This is supposed to be fun and relaxing. Every time I am not finished or we need to push something back in the queue we just scream FRRREEEDDDOOOMMM!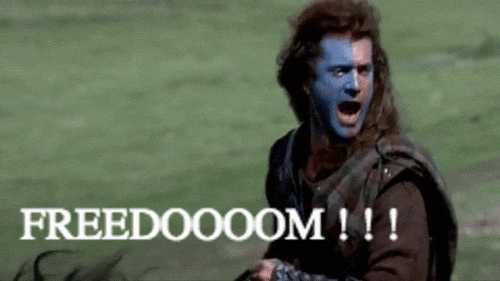 Nominations:
---
Sara @ Not Another Book Blogger